Cunning Hat
Loom Knit pattern by Nadine Borovicka
http://nadinescrafts.blogspot.com/
http://Nadinespatterns.blogspot.com/
Inspired by the Jayne Cobb hat on Firefly
Download PDF Here
Materials:
Yellow Knifty Knitter
Orange Yarn (Lionbrand Jiffy in Rust)
Yellow Yarn (Lionbrand Jiffy in Gold)
Red Yarn (Lionbrand Wool-ease chunky in Redwood)
Loom Knitting Tool
Pom-pom maker
Yarn Needles
Abbreviations:
Color A = Orange
Color B = Yellow
Color C = Red
K =
Knit stitch
P =
Purl Stitch
E-wrap Cast on
all pegs with color A. [K1, P1] around loom for five(5) rows.
E-wrap stitch
on one more row of color A. Do NOT knit off and do not cut color A yarn.
Start ear flaps working with color C. Starting on peg 8, working clockwise, e-wrap cast on 9 pegs. Knit 5 rows of color C back and forth on those 9 pegs. Do NOT touch strands of color A. We will come back to it. Increase the 6th row at both ends (11 pegs) and knit 7 rows. Increase the 13th row at both ends (13 pegs) and knit 7 rows. Increase the 21st row at both ends (15 pegs) and knit 10 rows. You'll end the earflap with 3 loops on each of those 15 pegs. Two of color A on the bottom and one of color C on top. Cut Color C and make second ear flap starting on peg 33.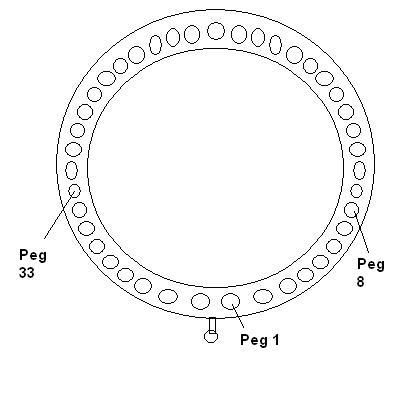 Diagram of peg placement
After both earflaps are finished, beginning with peg 1, knit non-ear flap pegs off 1 over 1 (just loops of color A). Knit off earflap pegs 1 over 2 (Pull the bottom loop of color A over both the top color A and color C loops). E-wrap around loom with color A. Non-ear flap pegs, knit off 1 over 1 (just loops of color A). Earflap pegs, knit off 2 over 1 (bottom 2 loops, 1 color A and 1 color C, over top loop of color A).
E-wrap knit normally with color A for 8 rows. Switch to color B, E-wrap knit for 15 rows. Bind off using
Provisional method
.
Make a pom-pom
with all three yarn colors and attach to the top of the hat. Tie off all of your ends but do NOT weave in to maintain that "just made by Ma Cobb" look.
Copyright © Nadine Borovicka 2008 All Rights Reserved. No part of this document may be reproduced or distributed without written consent from the author.